VoIPon Reseller Application

If you are a VoIP or IT reseller and interested in selling VoIPon products as part of your business offering, you can apply to become an authorised VoIPon reseller. Once accepted, you will have access to reseller pricing and quantity based discounts. We are unable to provide reseller pricing until you have completed the reseller documentation and your account is approved. Reseller accounts are not available for single orders. The criteria for becoming a VoIPon registered dealer are as follows :

You must be a VoIP / IT reseller or solutions provider/consultant and purchased products must be for resale. Reseller accounts are not available to end users.
A reseller account is an ongoing relationship with VoIPon. Applicants should have a genuine intention to purchase and resell VoIPon products in the future.
Initial minimum order value is £200.00.
Please complete the VoIPon reseller application form (link below) and submit this to us. We require a signed fax/email copy which will be generated once the electronic form is submitted.



After completing the reseller registration form, applications are verified and if the criteria is met, you will receive confirmation by email. We do process applications as quickly as possible, usually within a couple of hours.

Incomplete reseller applications will not be processed. We reserve the right to decline reseller status, at our discretion and without explanation.

Port Your VoIPon Account to 4Gon, the Wireless distributor, Today!!
If you already have a VoIPon reseller account then you can instantly set up an account with 4Gon, the Wireless distributor, Today. You can activate your account by clicking on the below image or here. Then you just need to enter your email address registered with your VoIPon account. This will then be used to create a new 4Gon account with your existing details and privileges.

Reseller Support
At VoIPon, we support our resellers and recognise that their success is our success. We offer competitive pricing and excellent customer support. We are also expanding our range of tools to help our resellers promote and manage our range of products.
Reseller Product Feed
A comprehensive product feed is now available for registered resellers. The feed is supplied in tab-delimited format and can be opened in all spreadsheet software. It is generated daily with the latest pricing and product information. If you are a reseller, please contact us for details and access.

Reseller Product Feed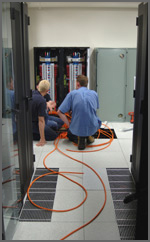 VoIPon Approved Installers

VoIPon operates an installation service which is implemented by our approved and affiliated installers. VoIPon approved installers carry out VoIPon work for our customers. Installers are selected on their abilities and track record; installation work is usually designated by region. Approved installers receive full support from VoIPon in addition to all the benefits associated with reseller status. We ask that prospective installers first register to become resellers.



More details & Enquiry Form