Video Reviews
Expand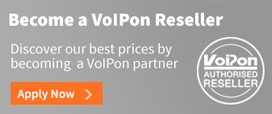 Sangoma VoIP Phones
Sangoma IP Phones have been designed to work exclusively for FreePBX. The Sangoma VoIP phones are so smart you can quickly and easily use them right out of the box. When used with FreePBX, you get the use of Sangoma Zero Touch technology, along with Endpoint Manager.
Why Sangoma IP Phones
Designed for FreePBX systems, by the sponsors of FreePBX

Plug and Play with Zero Touch Provisioning

Maximize Employee Productivity with FreePBX Phone Apps

Built-In 5-Way Conferencing and High Definition Voice
Each phone in the Sangoma IP phone series features industry standard Power over Ethernet, so no power cable or outlets required. They have full duplex speakerphones, dual Ethernet Ports, multi-way conference calling, high definition voice quality, and they're Virtual Private Network (VPN) capable.

Quantity Price Discounts Available! Click on the arrow to reveal.
Need 10+ products or can't find what you need? Get a
quick quote
or call us now on 0330 088 0195!
Item Code: s205

1x SIP Acount
Dual 10/100 Mbps Ethernet ports
Full Duplex Speaker Phone

£51.00

Buy Now Availability: Usually ships in 3-5 working days
Item Code: S206

2x SIP Accounts
5-way Conferencing
Full Duplex Speaker Phone

£46.00

Buy Now Availability: In stock
Item Code: s400

3x SIP Accounts
25 Programmable Soft Keys
5-way conferencing

£91.50

Buy Now Availability: In stock
Item Code: s405

5-way conferencing
25 Programmable Soft Keys
EHS Support

£82.31

Buy Now Availability: Please Email / Call for Availability.
Item Code: s505

5-way Conferencing
Full Duplex Speaker Phone
Headset & Expansion Module

£110.00

Buy Now Availability: In stock
Item Code: s705

6x SIP Accounts
Full duplex speaker phone
WiFi and Bluetooth Support

£159.00

Buy Now Availability: In stock
Item Code: EXP100

160x320 Graphic LCD display
2x RJ45 Ports
Wall Mountable

£103.00

Buy Now Availability: In stock
Item Code: EHS30

3.5mm DC Jack
RJ12 Cord
RJ45 Cord

£33.00

Buy Now Availability: In stock
Item Code: PHON-ACCS-PSU

£6.10

Buy Now Availability: In stock
| | |
| --- | --- |
| Displaying 1 to 12 (of 12 products) | Result Pages: 1 |