×
Coronavirus (COVID-19)
As per the UK government guidelines, we're still accepting orders and delivering.
Please see our latest update here
. Click on the "x" symbol to close.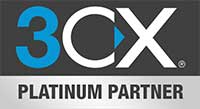 3CX Phone Systems, Office Without Limits
VoIPon are an official platinum partner of 3XC
Suitable for any business or industry, 3CX can accommodate your every need; from mobility and status to advanced contact center features and more, at a fraction of the cost. 3CX makes installation and maintenance of your business communications system so easy that you can effortlessly manage it yourself, whether on-premise on an appliance or server, or in the cloud.