×
Coronavirus (COVID-19)
As per the UK government guidelines, we're still accepting orders and delivering.
Please see our latest update here
. Click on the "x" symbol to close.
Video Reviews
Expand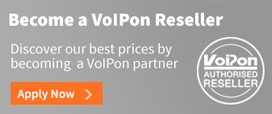 Gigaset
Gigaset are a market leader in producing both cordless and DECT phones. The Gigaset pro product portfolio is notoriously stylish and smart, whilst remaining both affordable and easy to use.
Gigaset have had an influence on the development of cordless technology for well over 20 years, formerly under Siemens. This wealth of experience is used to create new and innovative products. VoIPon have a range of Gigaset DECT handsets, repeaters, desk phones and bundles.
| | |
| --- | --- |
| | Great prices, service and delivery |
| | Support packages offered |
| | Large stock levels |
| | DECT bundles available |