Video Reviews
Expand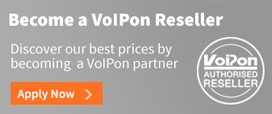 Digium VoIP Phones
Digium IP phones are designed for exclusive use with both Asterisk and Switchvox. All Digium VoIP Phone models include unprecedented HD Voice and plug-and-play deployment at a price that fits any budget. With multiple line appearances, contextual soft keys, and advanced applications, Digium IP Phones enable you to access the information you need instantly.

Quantity Price Discounts Available! Click on the arrow to reveal.
Need 10+ products or can't find what you need? Get a
quick quote
or call us now on 0330 088 0195!
Item Code: 1TELD080LF

Multi-point capacitive touch
1 Line appearance
Feature and context-sensitive functions

£223.20

Buy Now Availability: In stock
Item Code: 1TELD062LF

6-key navigation controller
Headset, speaker, and mute keys
2-color LED message waiting indicator

£125.80

Buy Now Availability: In stock
Item Code: 1TELD065LF

6 line appearance keys
Rapid dial page scroll key
4 feature keys

£158.30

Buy Now Availability: In stock
Item Code: 1TELA020LF

2.8-inch backlit colour LCD display
2 line appearances
1 feature key

£47.90

Buy Now Availability: In stock
Item Code: 1TELA022LF

4 context-sensitive soft keys
5-way navigation controller
Headset, speaker, and mute keys

£72.20

Buy Now Availability: In stock
Item Code: 1TELA025LF

2.8-inch backlit colour LCD display
2 line appearances
4 context-sensitive soft keys

£96.60

Buy Now Availability: In stock
Item Code: 1TELD009LF

£20.30

Buy Now Availability: In stock
Item Code: 1TELD008LF

£15.40

Buy Now Availability: In stock
Item Code: 1TELD011LF

£12.20

Buy Now Availability: In stock
| | |
| --- | --- |
| Displaying 1 to 11 (of 11 products) | Result Pages: 1 |